Serving as the Most Dependable Towing and Transport Experts
in Polk County Since 1976

Unrivaled Towing and Transport
Services in Florida
Webb's Towing & Recovery Services LLC is your go-to source for wrecker and recovery services, as well as reliable heavy equipment transport, both locally and nationwide Our expert wrecker & recovery crew stands ready to assist you 24/7, ensuring you receive prompt and efficient support whenever you need it. 
Central Florida's Largest
Fleet of Tow Vehicles
As the largest fleet of tow vehicles in Central Florida, we boast an impressive range of options to accommodate your specific needs. Our damage-free towing and equipment transport services, backed by our expert staff, guarantee the utmost care for your valuable assets. We also offer a 24/7/365 live dispatch system which utilizes state-of-the-art digital communications, ensuring a seamless coordination for every service call. Whether you require lowboy, detach or stretch trailer services, we have you covered for both local and long-distance towing and transport.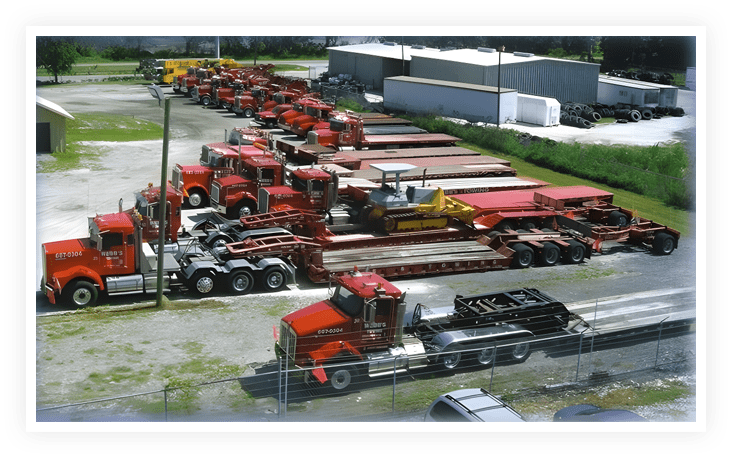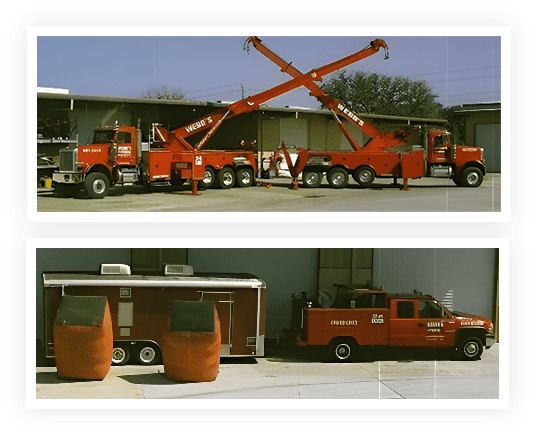 With all-wheel drive wreckers available in all class sizes, we are well-equipped to handle diverse towing requirements. Our car carrier flatbeds offer safe and damage-free towing for vehicles and equipment loads. Witness our exceptional capabilities with Florida's only all wheel drive rotating wrecker boasting a remarkable 75-ton capacity.
Diverse Equipment
Available to Meet Your Needs
For all your equipment needs, Webb's Towing & Recovery Services LLC has you covered with an extensive inventory, including loaders with buckets & forks, forklifts ranging from 3000 lbs. to 8000 lbs., all-wheel drive forklifts, lull lifts, scissor lifts, broom tractor, track hoe excavators and bulldozers. Handling waste is no hassle with our roll-off garbage cans, available in 20, 30, and 40-yard sizes. Our specialized services also include motorcycle towing, dive team assistance, and an airbag recovery system for ultimate peace of mind.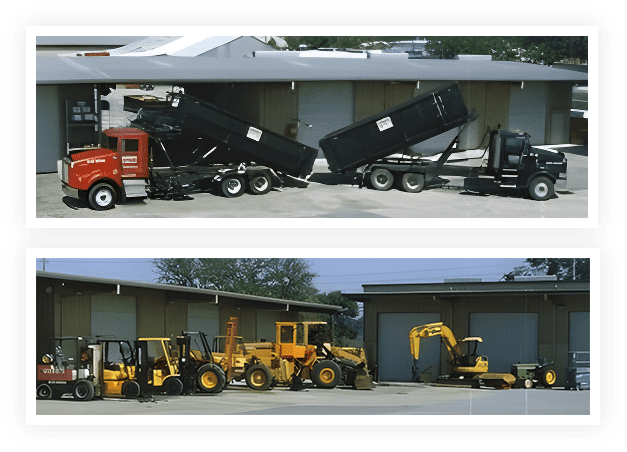 Your Reliable Source
for Efficient Solutions
For oversized loads, our reliable pilot escort service ensures a secure and smooth journey. At Webb's Towing & Recovery Services LLC, we understand the urgency of your needs, and we guarantee no long waiting periods for recovery or dispatch. Operating on over 100 acres of towing and salvage yard operations, we provide comprehensive solutions for all your recovery and equipment needs. Our business is permitted and completely insured, ensuring your assets are in safe hands.
Contact Us
for More Information
For trusted and efficient wrecker and recovery services, along with reliable heavy equipment transport, look no further than Webb's Towing & Recovery Services LLC. To simplify your billing process, we offer convenient commercial charge accounts for frequent services.
We proudly serve all of Polk County with professionalism and dedication. Contact us today and experience top-tier assistance for all your towing and hauling needs.